I think I'd originally planned to write about Christmas baking, but we've been listening to Christmas music all week, so I've got that on my mind.
Probably even more strongly than movies or books or any of the other traditions I've mentioned this week, I remember Christmas music. We had a collection of tapes my Mom had gotten from all over that I played non-stop during Christmas. The two that stand out in my mind as most unusual were the Amy Grant Christmas Album and Christmas With Boney M (yeah, so I kinda want to buy this even though I know it would drive Jeff nuts, I've now got the first song from the CD running through my head), which was a group Mom found out about when we lived over in Hong Kong and brought the tape back with us.  There was also the random selection of Bing Crosby (now playing on my computer), and a few other random ones.
Aside from instilling great memories in my kids, what can I do with it?
Using Christmas songs for learning
There's several different ways to go about this, but here's a few I've used over the years.
Vocabulary, Christmas songs, especially the classic ones have some amazing words in them and we can create some great vocabulary lessons from them.  Take a look at Jingle Bells (I'm skipping the more well known parts):
A day or two ago
I thought I'd take a ride
And soon, Miss Fanny Bright
Was seated by my side,
The horse was lean and lank
Misfortune seemed his lot
He got into a drifted bank
And then we got upsot.
|: chorus:|
A day or two ago,
The story I must tell
I went out on the snow,
And on my back I fell;
A gent was riding by
In a one-horse open sleigh,
He laughed as there I sprawling lie,
But quickly drove away.
Aren't those some great lyrics (and this isn't the whole song) for vocabulary?  We can take: misfortune, drifted, bank, upsot, bobtail, sprawling, gent….  And that's from two verses.  Imagine the opportunities if you sang all of the lyrics.
Art projects, this goes back to yesterday with Christmas crafts, but there's more crafts than I care to count for Christmas songs (right now over at Enchanted Homeschooling Mom she's got a 12 Days of Christmas theme going).  Wouldn't this snowman be perfect for "Walking in a Winter Wonderland"?
When I was in 8th grade I remember getting the assignment of figuring out how many presents "My true love gave to me," and it's a staggeringly large number of birds.  Remember each day he is giving each of those presents.  Though for several of those days she is also getting 5 gold rings.  Someday soon I'm giving my kids that assignment of figuring out how many there were.
One project we are going to do this year is piece together the Christmas Story from Christmas carols.  I want to go through songs like Silent Night, Away in the Manger, and figure out "the correct order" to tell the Christmas story.  I know Princess is going to love this project.
And the one near and dear to my heart, let's teach some history with our Christmas music.  Who is "Good King Winslecas," or what is the "feast of Stephen"?  Why was "Silent Night" written?  Have you heard that story?  It's a good one.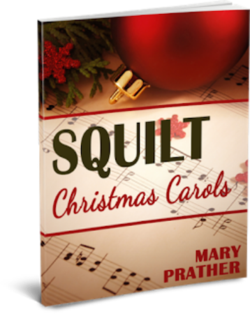 Oh, I almost forgot this one.  Go to the theater and see "The Nutcracker" or watch a performance of "Handel's Messiah."  Both are great experiences (I was reminded because I saw Homegrown Learner's Nutcracker Unit (affiliate link), and said, can't forget to mention that!).
Finally, of course you can use Christmas carols to teach about music theory and music history.  For that I"m going to be lazy and use SQUILT Christmas Carols (affiliate link), because why put in the work to create a unit (an unit?  That sounds wrong, but it's grammatically correct) when someone else has already done the work?
Our Christmas Music
I've spent a while telling you how I plan to teach using Christmas music, but haven't told you much about our rather extensive library, so here's a quick list of the various CDs and music I've collected over the years (other than the CDs mentioned at the top).
 Christmas Offerings
Peace(This is my friend's album and Jeff got it for me this year as an early Christmas present, it's all instrumental and GORGEOUS)
The Muppet Christmas Carol(I told you I loved it, also a Christmas present form Jeff one year)
Christmas Classics
Classic Christmas(can you tell I have a thing for 40s Big Band music?)
Random other albums that I can't remember right now, but might come back in later and add in
This is part of Creating Christmas Traditions series come back tomorrow as I talk about Christmas giving traditions.  For more Christmas posts check out iHomeschool Network's 5 Days of Christmas series.