I've had this hermit crab craft pinned to my Swimming Creatures pinterest board for a very long time and have been rather eager to give it a try for a while.  We finally reached crustaceans, so it was time to get started on the hermit crab craft!
Supplies: red paint, construction paper and scrapbook paper, glue, scissors
First we read our science book about hermit crabs and talked about what made them unique and different.  We also watched the Dinosaur Train episode and Cat in the Hat episodes with hermit crabs (which my kids reminded me of after reading it).
Then we read "A House for Hermit Crab" by Eric Carle, and compared the hermit crab in the story to what real hermit crabs do.  Real hermit crabs do actually get sea anemones to help protect them from predators and will move the sea anemone from their old shell to their new one.
After reading both of these I painted their hands, and made a handprint for the body of the crab, and then we cut a roughly shell shape from a piece of white construction paper.  They drew a swirly shape onto their paper for the shape of the shell.
Here was their assignment for the hermit crab craft:  Glue on things that live in the ocean that a hermit crab might have on their sea shell, or be in the sea near them.
Princess had lots of barnacles and such added to hers.  Superman had a sea anemone, a shark swimming by, and another fish.  There was also some coral nearby.  Batman had a sea anemone (with a very accurate description of the symbiotic relationship), a manta ray, and some rocks because the hermit crab in the book had rocks.
All in all, I'd say they both absorbed the book, and the scientific knowledge.  Now, I seriously considering a whole mini-unit about the book……..  It's just so much fun.
There were several weather themed posts linked up this week, so I had to highlight such a nice little theme already built in.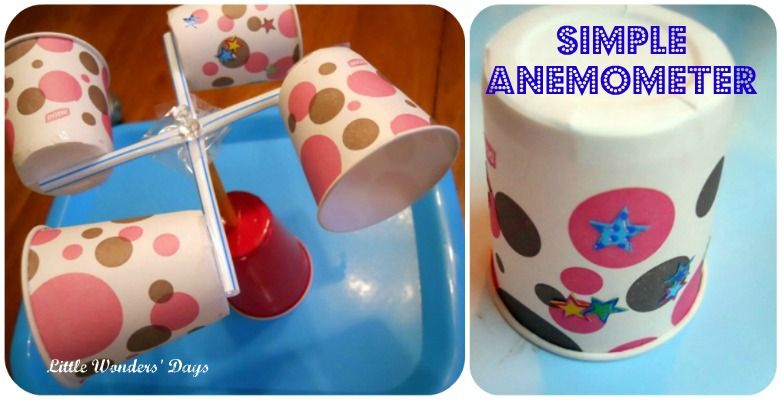 Little Wonder Days continued the weather theme with a Simple Anemometer.
Learning Ideas k-8 has a cute wind sock to make.  Does anyone else remember making these as a kid?  She also has a whole bunch of weather posts on her site, but I didn't want to show you every single one.
It's fun when we can do an art project (which they'd been begging me to do, because you know we never do those) and have it work well with science.
Hopefully I have not messed up my linky thing and put in the wrong date or start time again (fingers crossed).