We've continued our chapter about mollusks and shell creatures and continued our explorations of our shells.
To answer a few questions I had about our shell collection:
1.  These shells are from a combination of several trips to the beach (pre and post kids).
2.  Some of these were bought, actually many of them.  Galveston is not the best location for finding shells.
3.  We have some ground rules for playing with them, mainly it has to stay at the table so we don't lose/break them.
This week we read about conches and the various different sea snails and the like.
First we looked at these two shells I had found on the beach in Florida.  They're both broken, and that's why I picked them up.  They do a wonderful job of letting you see what a conch or whelk shell looks like on the inside.  The one on the left lets you see that inside spiral and the one on the right lets you see the spiral in relation to the rest of the shell.
After talking about that for a while we went through our box of shells and found the ones that best match these shells.
Than we looked at this cross section of a moon snail shell (my best guess at the shell).  I bought this one when we went to Galveston knowing we'd get to this chapter and how awesome would it be to see what a shell looks like inside?  Just like before we found a matching shell that was whole, and compared the differences between these two types of shells.
They really enjoyed this and it actually became an hour and a half long session of looking at and exploring the shells, along with a few squabbles……….
For a preview of what's coming I send you to this post by Crafty classroom with her shells printable.
Mama of Many Blessings shared about the human nervous system and where she found some printables.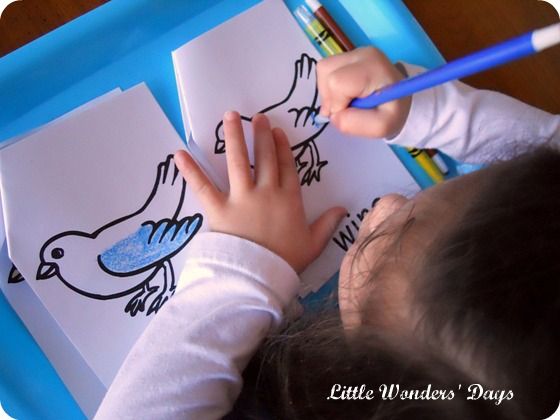 Little Wonder Days has this super cute parts of a bird printable.
You have to go to the site, but Alina's Adventures in Homemaking has a cute stop motion video her boys made.
Layers of Learning has an interesting post about a Dichotomous Key, which I'd seen before but never knew there was a name for these.  I love how she expands on what else you can do with these.
What Science Activities did you do this week?  It's always fun to read them, even if I'm slow sometimes………