I'll add in the Summer Bucket List button as soon as I remember who is hosting this, help!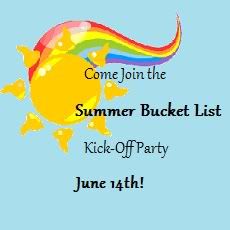 And now I've added it in.
Julie of Just Playin' Around also has a book blog called
My Book Retreat
and I routinely read her posts (if rarely comment) and think I'd love to read more, okay I read a fair amount.
Here's my definite books:
1.  Proven Guilty, Jim Butcher- I'm halfway through, should be done in a day or so
2.  White Knight, Jim Butcher- I'll finish powering through Dresden Files soon, I'm sure.
3.  Small Favors, Jim Butcher- last one we own currently, I'm sure if I find any of the other ones I'll pick it up
4. Chronicles of Narnia- this is also going to be part of another challenge that is a fun idea of reading/watching whatever you can/want to from that series.
5.  Creative Correction, Lisa Welchel- parenting book, in theory I'll be putting up my thoughts on chapter 1 this week, I"m reading it with a friend and comparing notes.
6.  I'm sure I'll read something else during this time.  We'll see what I find on our trip.
SUMMER BUCKET LIST
1.  Attend Warrior Prince Academy (in progress)
2.  See Toy Story 3
3.  Make Build-A-Bear toys for the kids.
4.  See the Grand Canyon for the first time.
5.  Go to the San Diego Zoo.
6.  Visit friends, all over.
7.  Go swimming a lot.
8.  Go to the Austin Science and Nature Center.
9.  Go to the Children's Museum.
10.  Make ice sculptures using paper cups.
11.  Read lots of fairy tales, and maybe make knight stuff.
12.  Finish learning about butterflies, and hopefully insects.
12.  Get at least one more room "clean and organized."
13.  Find out what color the carpet is in my room (I'm sure there's a floor in there somewhere).
14.  Finish the early Jesus Bible stories.
15.  Sew at least 3 projects.
16.  Let the kids try sewing one thing.
17.  Find a new park.
18.  Feed the ducks.  Snicker, snicker, and if you went to ACU that would be a hilarious comment.
19.  I'm sure I can come up with two more things…….  Play lots of board games together.
20.  Go see the Zilker Summer musical.
21.  Have lots of picnics.
22. Have a fun water game day.
TO DO BEFORE OUR TRIP AS FAR AS PACKING
While I'm making lists might as well make this one:
1.  Go to AAA and get their books about the different states we'll be driving through
2.  Tune up car
3.  Get Batman's seatbelt replaced (waiting on parts)
4.  Print off lots of coloring and learning pages.  Note to self, go to
learning page
and print off their insect theme section.
5.  Pack suitcases; find a good travel soap for washing clothes.
6.  Organize snack types of things and drinks.
7.  Hmmmm, lots more stuff, but I need to go be a superhero with Princess.  I've got my power ring, and now to fight bad guys.